Composite Push to Connect Fittings for Metric Tubing, PT, R, BSPT Thread - PX Male Y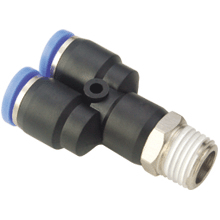 PX male Y push to connect fitting is used to connect two metric tubing connections to a female R, PT, BSPT thread in the same direction in Y-shape. It has a swivel male thread on one end and two tubing connection on the other end. Male Y push to connect fittings are made of nickel plated brass, strong thermoplastic (PBT), POM release sleeve and stainless steel tube gripping claws. Male Y push in fittings are suitable for air, pneumatic and machine tools applications. Pre-coated Teflon threads are ready to use without additional sealing. Pneuflex's pneumatic fittings provide easy tube insertion and removal for rapid assembly. Accommodate metric tubing O.D ranging from 4 mm to 16 mm, thread size from R, PT, BSPT 1/8 to R, PT, BSPT 1/2. 
Shape of Release Sleeve: Oval and Round.
Colors of Release Sleeve: Blue, Red, Black, Grey or Custom Color.
Body Color: Black or Grey.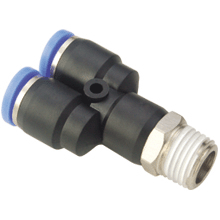 Part #: PX Male Y
Push-in Tubing O.D: From 4mm to 16mm
Thread Size: From M5, M6, BSPT 1/8 to BSPT 1/2
Fluid Admitted: Air, Vaccum, Water(no freezing)
Body Material: PBT
Thread Material: Nickel Plated Brass
Thread Sealing: Teflon-coating
Seal, O-ring: NBR
Working Pressure: 0—1.0MPa | 0—150psi
Proof Pressure: 3.0Mpa | 435psi
Negative Pressure: -100Kpa | -29.5 In Hg
Working Temperature: 0—60°C | 32—140°F
Lock Claw: Stainless Steel(SUS)
Applicable Tube: PU / PA / PE / PVC
---
| Product | Specifications for ALL Push to Connect Fittings | Push-in Tubing O.D | Push-in Tubing O.D (D1) | Push-in Tubing O.D (D2) | Thread Size | Fluid Admitted | Body Material | Thread Material | Thread Sealing | Seal, O-ring | Working Pressure | Proof Pressure | Negative Pressure | Working Temperature | Specifications for Silencers | Fluid Admitted | Thread Size | Body (noise adsorbing material) | Base (Thread Material) | Working Pressure | Proof Pressure | Negative Pressure | Working Temperature |
| --- | --- | --- | --- | --- | --- | --- | --- | --- | --- | --- | --- | --- | --- | --- | --- | --- | --- | --- | --- | --- | --- | --- | --- |
| 4mm O.D Tubing, M5 x 0.8 Composite Male Y | | 4mm | | | M5 x 0.8 | Air, Vaccum, Water (no freezing) | PBT Plastic | Nickel Plated Brass | O-ring | NBR | 0~1.0 MPa | 0~150 psi | 3.0Mpa | 435psi | -100Kpa | -29.5 In Hg | 0~60°C | 32~140°F | | | | | | | | | |
| 4mm O.D Tubing, M6 x 1 Y Shaped Male Connector | | 4mm | | | M6 x 1 | Air, Vaccum, Water (no freezing) | PBT Plastic | Nickel Plated Brass | O-ring | NBR | 0~1.0 MPa | 0~150 psi | 3.0Mpa | 435psi | -100Kpa | -29.5 In Hg | 0~60°C | 32~140°F | | | | | | | | | |
| 4mm O.D Tubing, R, PT, BSPT 1/8 Male Y | | 4mm | | | PT, R, BSPT 1/8 | Air, Vaccum, Water (no freezing) | PBT Plastic | Nickel Plated Brass | Teflon-coating | NBR | 0~1.0 MPa | 0~150 psi | 3.0Mpa | 435psi | -100Kpa | -29.5 In Hg | 0~60°C | 32~140°F | | | | | | | | | |
| 4mm O.D Tubing, R, PT, BSPT 1/4 Male Y Connector | | 4mm | | | PT, R, BSPT 1/4 | Air, Vaccum, Water (no freezing) | PBT Plastic | Nickel Plated Brass | Teflon-coating | NBR | 0~1.0 MPa | 0~150 psi | 3.0Mpa | 435psi | -100Kpa | -29.5 In Hg | 0~60°C | 32~140°F | | | | | | | | | |
| 6mm O.D Tubing, M5 x 0.8 Male Y | | 6mm | | | M5 x 0.8 | Air, Vaccum, Water (no freezing) | PBT Plastic | Nickel Plated Brass | O-ring | NBR | 0~1.0 MPa | 0~150 psi | 3.0Mpa | 435psi | -100Kpa | -29.5 In Hg | 0~60°C | 32~140°F | | | | | | | | | |
| 6mm O.D Tubing, M6 x 1 Male Y Connector | | 6mm | | | M6 x 1 | Air, Vaccum, Water (no freezing) | PBT Plastic | Nickel Plated Brass | O-ring | NBR | 0~1.0 MPa | 0~150 psi | 3.0Mpa | 435psi | -100Kpa | -29.5 In Hg | 0~60°C | 32~140°F | | | | | | | | | |
| 6mm O.D Tubing, R, PT, BSPT 1/8 Composite Male Y | | 6mm | | | PT, R, BSPT 1/8 | Air, Vaccum, Water (no freezing) | PBT Plastic | Nickel Plated Brass | Teflon-coating | NBR | 0~1.0 MPa | 0~150 psi | 3.0Mpa | 435psi | -100Kpa | -29.5 In Hg | 0~60°C | 32~140°F | | | | | | | | | |
| 6mm O.D Tubing, R, PT, BSPT 1/4 Male Y | | 6mm | | | PT, R, BSPT 1/4 | Air, Vaccum, Water (no freezing) | PBT Plastic | Nickel Plated Brass | Teflon-coating | NBR | 0~1.0 MPa | 0~150 psi | 3.0Mpa | 435psi | -100Kpa | -29.5 In Hg | 0~60°C | 32~140°F | | | | | | | | | |
| 6mm O.D Tubing, R, PT, BSPT 3/8 Male Y Cnnector | | 6mm | | | PT, R, BSPT 3/8 | Air, Vaccum, Water (no freezing) | PBT Plastic | Nickel Plated Brass | Teflon-coating | NBR | 0~1.0 MPa | 0~150 psi | 3.0Mpa | 435psi | -100Kpa | -29.5 In Hg | 0~60°C | 32~140°F | | | | | | | | | |
| 6mm O.D Tubing, R, PT, BSPT 1/2 Y Shaped Male Connector | | 6mm | | | PT, R, BSPT 1/2 | Air, Vaccum, Water (no freezing) | PBT Plastic | Nickel Plated Brass | Teflon-coating | NBR | 0~1.0 MPa | 0~150 psi | 3.0Mpa | 435psi | -100Kpa | -29.5 In Hg | 0~60°C | 32~140°F | | | | | | | | | |
| 8mm O.D Tubing, R, PT, BSPT 1/8 Composite Male Y | | 8mm | | | PT, R, BSPT 1/8 | Air, Vaccum, Water (no freezing) | PBT Plastic | Nickel Plated Brass | Teflon-coating | NBR | 0~1.0 MPa | 0~150 psi | 3.0Mpa | 435psi | -100Kpa | -29.5 In Hg | 0~60°C | 32~140°F | | | | | | | | | |
| 8mm O.D Tubing, R, PT, BSPT 1/4 Male Y | | 8mm | | | PT, R, BSPT 1/4 | Air, Vaccum, Water (no freezing) | PBT Plastic | Nickel Plated Brass | Teflon-coating | NBR | 0~1.0 MPa | 0~150 psi | 3.0Mpa | 435psi | -100Kpa | -29.5 In Hg | 0~60°C | 32~140°F | | | | | | | | | |
| 8mm O.D Tubing, R, PT, BSPT 3/8 Male Y Connector | | 8mm | | | PT, R, BSPT 3/8 | Air, Vaccum, Water (no freezing) | PBT Plastic | Nickel Plated Brass | Teflon-coating | NBR | 0~1.0 MPa | 0~150 psi | 3.0Mpa | 435psi | -100Kpa | -29.5 In Hg | 0~60°C | 32~140°F | | | | | | | | | |
| 8mm O.D Tubing, R, PT, BSPT 1/2 Y Shaped Male Connector | | 8mm | | | PT, R, BSPT 1/2 | Air, Vaccum, Water (no freezing) | PBT Plastic | Nickel Plated Brass | Teflon-coating | NBR | 0~1.0 MPa | 0~150 psi | 3.0Mpa | 435psi | -100Kpa | -29.5 In Hg | 0~60°C | 32~140°F | | | | | | | | | |
| 10mm O.D Tubing, R, PT, BSPT 1/8 Composite Male Y | | 10mm | | | PT, R, BSPT 1/8 | Air, Vaccum, Water (no freezing) | PBT Plastic | Nickel Plated Brass | Teflon-coating | NBR | 0~1.0 MPa | 0~150 psi | 3.0Mpa | 435psi | -100Kpa | -29.5 In Hg | 0~60°C | 32~140°F | | | | | | | | | |
| 10mm O.D Tubing, R, PT, BSPT 1/4 Male Y | | 10mm | | | PT, R, BSPT 1/4 | Air, Vaccum, Water (no freezing) | PBT Plastic | Nickel Plated Brass | Teflon-coating | NBR | 0~1.0 MPa | 0~150 psi | 3.0Mpa | 435psi | -100Kpa | -29.5 In Hg | 0~60°C | 32~140°F | | | | | | | | | |
| 10mm O.D Tubing, R, PT, BSPT 3/8 Male Y Connector | | 10mm | | | PT, R, BSPT 3/8 | Air, Vaccum, Water (no freezing) | PBT Plastic | Nickel Plated Brass | Teflon-coating | NBR | 0~1.0 MPa | 0~150 psi | 3.0Mpa | 435psi | -100Kpa | -29.5 In Hg | 0~60°C | 32~140°F | | | | | | | | | |
| 10mm O.D Tubing, R, PT, BSPT 1/2 Y Shaped Male Connector | | 10mm | | | PT, R, BSPT 1/2 | Air, Vaccum, Water (no freezing) | PBT Plastic | Nickel Plated Brass | Teflon-coating | NBR | 0~1.0 MPa | 0~150 psi | 3.0Mpa | 435psi | -100Kpa | -29.5 In Hg | 0~60°C | 32~140°F | | | | | | | | | |
| 12mm O.D Tubing, R, PT, BSPT 1/8 Composite Male Y | | 12mm | | | PT, R, BSPT 1/8 | Air, Vaccum, Water (no freezing) | PBT Plastic | Nickel Plated Brass | Teflon-coating | NBR | 0~1.0 MPa | 0~150 psi | 3.0Mpa | 435psi | -100Kpa | -29.5 In Hg | 0~60°C | 32~140°F | | | | | | | | | |
| 12mm O.D Tubing, R, PT, BSPT 1/4 Male Y | | 12mm | | | PT, R, BSPT 1/4 | Air, Vaccum, Water (no freezing) | PBT Plastic | Nickel Plated Brass | Teflon-coating | NBR | 0~1.0 MPa | 0~150 psi | 3.0Mpa | 435psi | -100Kpa | -29.5 In Hg | 0~60°C | 32~140°F | | | | | | | | | |
| 12mm O.D Tubing, R, PT, BSPT 3/8 Male Y Connector | | 12mm | | | PT, R, BSPT 3/8 | Air, Vaccum, Water (no freezing) | PBT Plastic | Nickel Plated Brass | Teflon-coating | NBR | 0~1.0 MPa | 0~150 psi | 3.0Mpa | 435psi | -100Kpa | -29.5 In Hg | 0~60°C | 32~140°F | | | | | | | | | |
| 12mm O.D Tubing, R, PT, BSPT 1/2 Y Shaped Male Connector | | 12mm | | | PT, R, BSPT 1/2 | Air, Vaccum, Water (no freezing) | PBT Plastic | Nickel Plated Brass | Teflon-coating | NBR | 0~1.0 MPa | 0~150 psi | 3.0Mpa | 435psi | -100Kpa | -29.5 In Hg | 0~60°C | 32~140°F | | | | | | | | | |