Pneumatic Plastic Tubing, PU Tubing, PE Tubing, PTFE Tubing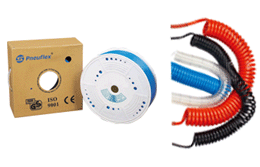 Pneuflex is manufacturing tubing that are made from different kinds of plastic material for different application requirements involving high temperatures and/or corrosive fluids. Tubing is available in inch (imperial ) sizes of 1/8", 5/32", 3/16", 1/4", 5/16", 3/8", 1/2" and 5/8". Metric tubing sizes of 4mm, 6mm, 8mm, 10mm, 12mm and 16mm are available.
PU (Polyurethane) Tubing (Ester & Ether Based)
Nylon Tubing
Braided Polyurethane Tubing
Bonded Polyurethane Tubing
PE Polyethylene Tubing
Anti-Spark Polyurethane Tubing
Teflon Tubing (PTFE Tubing)
Features of Pneuflex's Plastic Tubing
Made from Raw Material.
High precision of inside and outside dia sizes.
Multiple colors.
---
---