Composite Push to Connect Fitting for Inch Tube, UNF, UNC, NPT Thread - PG Union Straight Reducer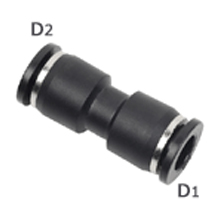 PG union straight reducer push to connect fitting is used to connect two inch tubing with different diameter in the same direction. Union straight reducer push to connect fittings are made of strong thermoplastic (PBT) and stainless steel tube gripping claws. Union straight reducer pneumatic fittings are suitable for air, pneumatic and machine tools applications. Pneuflex's push in fittings provide easy tube insertion and removal for rapid assembly. Accommodate inch tubing O.D ranging from 1/8" to 1/2".
Shape of Release Sleeve: Oval and Round.
Colors of Release Sleeve: Blue, Red, Black, Grey or Custom Color.
Body Color: Black or Grey.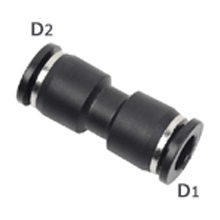 Part #: PG Union Straight Reducer
Push-in Tubing O.D: From 1/8" to 1/2"
Fluid Admitted: Air, Vaccum, Water(no freezing)
Body Material: PBT
Seal, O-ring: NBR
Working Pressure: 0—1.0MPa | 0—150psi
Proof Pressure: 3.0Mpa | 435psi
Negative Pressure: -100Kpa | -29.5 In Hg
Working Temperature: 0—60°C | 32—140°F
Lock Claw: Stainless Steel(SUS)
Applicable Tube: PU / PA / PE / PVC
---